Jersey's weather radar dome set to become a planetarium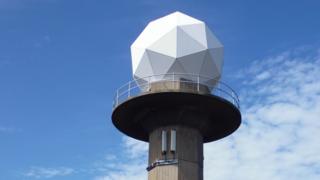 Jersey's weather radar dome is set for a new life as a planetarium at an island attraction.
The radar was turned off on Tuesday with a replacement being installed over the next 12 weeks - although data may be available in three to four weeks.
During the "essential upgrade" the 25-year-old protective dome will be replaced by a new one, the States said.
Tamba Park was chosen as the dome's new home after a call for ways to recycle it locally.
Owner Jonathan Ruff said: "As a planetarium we will use special effects to project planets in 3D.
"We hope to tell a story of how planet earth is just in the right place to support life and link this to climate change."
LED technology will be installed in the dome, which is made of 48 pieces of glass reinforced plastic, to create the planetarium effect.
Emma Richardson-Calladine, States recycling manager, said: "The dome is past its useful life for meteorological purposes but it's still in excellent condition, so it made sense to find a new home for a real piece of Jersey history."
John Searson, principal meteorological officer, said: "We were delighted with the response from the community. The applications were innovative and thoughtful and we had a tough time deciding between them.
"In the end, it came down to a question of how accessible and how permanent the new home would be."
The creation of the planetarium will need planning permission.