Jersey care inquiry: Lenny Harper 'ill advised' over child skull claim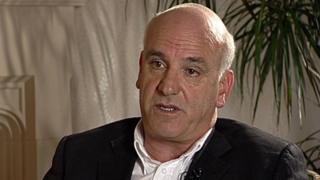 The leading investigator of Jersey child abuse was "ill-advised" to so quickly reveal a human skull fragment had been found, an inquiry heard.
Lenny Harper made the announcement before the item was later identified as a piece of coconut shell in 2008, the £23m Jersey Care Inquiry was told.
The comments were made as Jersey Police and the Law Officers department made their closing remarks in the case.
Ex-deputy chief officer Mr Harper, led the original historical abuse inquiry.
Advocate Jeremy Garrood, speaking for Jersey Police, criticised the way Mr Harper dealt with the media during the investigation.
He said Mr Harper was "ill advised to announce the partial remains of a child were found before forensic investigations had concluded" on the item, found at the former Haut de la Garenne children's home.
After being examined by experts from the British Museum, the fragment turned out to a piece of coconut dating back to the the Victorian era.
The inquiry was launched in July 2014 to investigate claims of child abuse
£23m
Is the final cost of the inquiry
200 People have given evidence directly to the inquiry

146 Public hearing from victims, experts and others

2m Pages of hard evidence submitted to the inquiry

600 Witnesses in total including evidence read to the inquiry
Independent Jersey Care Inquiry
The inquiry is hearing from interested parties including the States, the police, care leavers and law officers.
Mr Harper's role was also criticised by the Law Officer's Department.
Previously, he had accused the department of turning a blind eye to corruption, saying a dozen suspects who had been arrested were not charged.
Oliver Glasgow QC, speaking for the law officers' department, said Mr Harper's claims could not be supported and his evidence was found wanting.
He said the claims "reveal something of Mr Harper's attitude towards those in authority which was one of deep suspicion and distrust."
The inquiry is due to publish its final report in December.