Jersey States say 'no excuse' for failings leading to abuse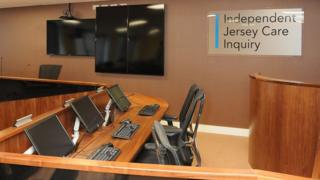 There is "no excuse" for failings in the Jersey care system which led to child abuse, a lawyer for the States has told the Independent Care Inquiry.
Advocate Beverley Lacey was making the States final remarks to the inquiry after nearly two years of evidence.
The inquiry is hearing from interested parties including the States, the Police, Care Leavers and law officers.
Advocate Lacey said the conduct of some States employees over the years fell well below acceptable standards.
'Vigilant as possible'
She told the inquiry: "We have heard nightmare accounts of children who have been groomed and subjected to sexual abuse by individuals in positions of trust.
"No child should ever have to suffer any abuse within the care of the States of Jersey.
"From their experiences, we have to learn and ensure we are as vigilant as possible as to the services provided today and in the future."
Advocate Lacey dismissed suggestions that abuse allegations were motivated by money. Many who gave evidence, she said, had never applied for official compensation.
She added Jersey's government hoped any recommendations made by the inquiry would be ambitious but also realistic.
The inquiry heard about plans to hire 63 social services staff including 20 new social workers at a cost of £5.5m.
Advocate Lacey said, however, that there were "no quick fixes".
The inquiry was launched in July 2014 to investigate claims of child abuse in Jersey's care system dating back to 1945.
With more than 2m pages of evidence and hundreds of witnesses, the inquiry has cost about £23m.
The inquiry is due to publish its final report in December.