Jersey States impose 1% pay rise on teachers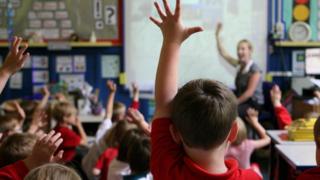 Teachers' unions in Jersey have described a new 1% pay deal as "disappointing" saying it will make teacher recruitment harder.
The deal, imposed on teachers by the States Employment Board (SEB), follows no increase in 2015.
Teachers' union the NASUWT said that the pay restraint would lead to a decline in educational standards in the island.
No-one was available for comment from the SEB.
An NASUWT spokesman said: "Such a minimal award will do nothing to assist in the retention and recruitment of high quality teachers".
The deal threatened standards and would "impact negatively on Jersey for many years to come".
Andy Woolley, NUT regional secretary for the South West, said the cost of living and accommodation in Jersey was particularly high.
He said: "We believe that previous pay restraint has already had an impact on the number of people applying for posts on the island and this latest imposition can only make that worse.
"The island retains its desire not to levy taxation on various parts of the financial sector.
"We do not believe public sector workers should bear the brunt of a financial crisis that is not of their making."