Jersey Care Inquiry: Report claims personal privacy of victims 'breached'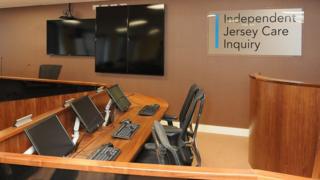 An inquiry investigating historical child abuse has been accused of breaching the personal privacy of victims and alleged abusers.
In a 446-page report, Jersey's Data Protection Commissioner accused The Independent Jersey Care Inquiry of "systemic breaches" over the way it handled information.
But the panel running the inquiry said the report has "many inaccuracies".
The inquiry is looking at the abuse of children in the care system since 1945.
'Unreceptive to criticism'
Emma Martin, data protection commissioner, said the report was instigated after concerns were raised by 10 "affected parties and individuals".
The report said there was "evidence of systemic breaches in personal privacy" and accused the team of being "unreceptive to criticism and generally unwilling to accept any offer of assistance" from the commissioner to "review and improve its processes".
In a statement, the panel said: "The inquiry has provided a detailed response to the issues raised in the data commissioner's report.
"It is a matter of regret that the inquiry did not have sight of the draft report prior to it being submitted to the chief minister as this would have allowed the many inaccuracies in the report to be corrected at an early stage.
"No formal complaints have been made to the data commissioner and the inquiry is satisfied that the data protection systems in place are as robust as is required in handling sensitive material.
"The panel does not intend to make any further statement on this matter."
The inquiry is investigating child abuse in Jersey's care system since 1945 and is focusing on - but is not restricted to - Haut de la Garenne during the 1960s.