Car boot Calais migrant sentenced in Jersey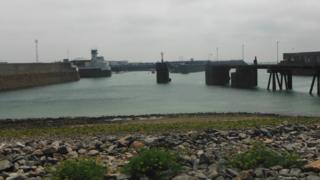 An illegal immigrant found inside a car boot at Jersey Harbour has been sentenced.
Amir Merikhi, 29, originally from Iran, was found in the vehicle, which had crossed on a ferry from St Malo in January.
A Jerseys Magistrates' Court official said it was the first known prosecution of someone illegally entering the island from the Calais migrant camp.
Merikhi was sentenced to 10 weeks' imprisonment, suspended for 12 months.
Magistrates refused to grant an application to change his initial guilty plea to not guilty.
Merikhi has made a formal claim for UK asylum and his claim is currently being processed, a States spokesperson said.
His brother Arsalan Marreakhy, and Mr Marreakhy's wife, Amanda Marreakhy, were arrested on suspicion of facilitating an illegal entry.
They are both due to appear at the Royal Court of Jersey on 20 May.