Jersey abuse victim: Abuse should be held accountable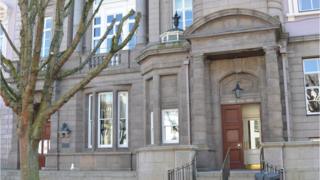 A woman has told the Royal Court trial of her alleged abuser that he should be held accountable for what he did.
Nicholas Price Marvin, 51, of Old St John's Road, St Helier, denies 12 charges of sexual abuse.
The woman is named as a victim in two of a total of 12 charges faced by Mr Marvin dating back to the 1990s.
She told Jersey's Royal Court that she rejected defence suggestions that Marvin's actions were innocent or inadvertent.
The witness said: "I don't see how touching a 14 year-old's bottom is innocent."
Illegal drugs
For the defence, Advocate Mike Preston asked the woman if she had ever taken illegal drugs.
She said she had taken "probably nearly all of them" as an adult to cope with depression but told the court she has been clean for years.
In at-times emotional evidence, the witness said Mr Marvin exposed himself to her, groped her twice, and kissed her in a sexual way.
Under cross-examination, the woman could not account for differences between police interviews she gave as a child, and evidence she later gave as an adult.
She said: "When a situation is very, very stressful it will repress and can come back at any time in a person's life and that is what's happened.
"They happened. I didn't feel I had a voice. Now I can make somebody stand up and be accountable for their actions. That's why I'm here.
"It's not something I should ever have had to go through. I'm taking a stand."
The trial continues.