Stranded man rescued from rising tide at St Aubin's Fort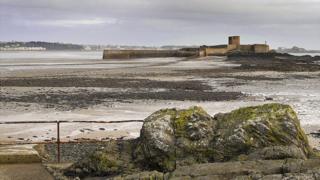 A man was rescued after becoming cut off by the tide in Jersey - the third incident of its kind in a week.
He was stranded at St Aubin's Fort for several hours before two passing teenage kayakers raised the alarm, at about 20:00 BST on Monday.
The man, aged in his 30s, was picked up and brought to the shore by the Inshore Fire and Rescue boat.
Three girls were rescued on Friday at West Park, and a woman was stranded at rocks at La Corbiere on 4 April.
The Jersey Fire and Rescue Service said the man, who did not have a mobile phone, was left cold but uninjured.
Ian Gough, crew commander and helmsman of the rescue boat, praised the actions of the kayakers, who alerted the coastguard before staying with the man until help arrived.