Ex-RAF chief appointed Jersey's next Lieutenant Governor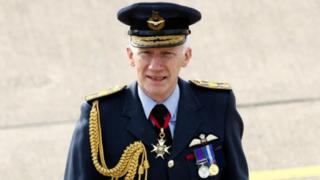 Jersey's next Lieutenant Governor has been announced as Air Chief Marshal Sir Stephen Dalton.
The former head of the RAF will take office in early 2017, replacing the incumbent Sir John McColl.
Sir Stephen joined the RAF in 1976 and flew the Jaguar bomber on three tours involving ground attacks during the Cold War.
He said he intended to meet as many people in "this jewel in the Channel Islands".
"The people of Jersey have always made my wife and I most welcome during our visits to the island over many years and we look forward to greatly to working with and living amongst all of the residents in the year ahead," he said.
Sir Stephen, who is married with two children, has visited Jersey several times with Lady Dalton, including for the Jersey International Air Display.
Bailiff William Bailhache said he was "very pleased" with the Queen's appointment of Sir Stephen.
"He has had a highly distinguished military career in the Royal Air Force, and I know that he and Lady Dalton will receive a very warm Jersey welcome from the local community when they arrive," Mr Bailhache said.
The Lieutenant Governor is appointed by the Queen for a five-year term, and represents the interests of the Crown, among other other duties.