Jersey paper apologies after 18,000 tide times error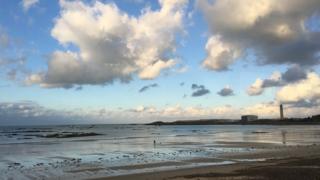 A newspaper has apologised after it accidentally issued 18,000 incorrect tide timetables.
The Jersey Evening Post said the tables were an hour out because they did not take British Summer Time into account.
The tide times were incorrectly published in Greenwich Mean Time on 22 March.
Deputy news editor Lucy Stephenson said she was "hugely" concerned for the public's safety and urged people to "spread the message" about the error.
"So many people... rely on tide times, from just going to the beach walking your dog, to people that park on slips, fishermen, people that work on the sea," she said.
"We don't want people getting caught out by rising tides."
Jersey experiences tidal ranges of up to 12m (39ft), the third largest tidal range in the world after the Bay of Fundy in Canada and the Severn Estuary.
A coastguard spokesperson said they often received reports of people stranded due to "the quickly rising tide". It encouraged people to check tide times and weather conditions before they went near the sea.
The correct times, provided by the UK Hydrographic Office, will be published in the paper from 11 April.