Jersey to end free universal nursery care in 2017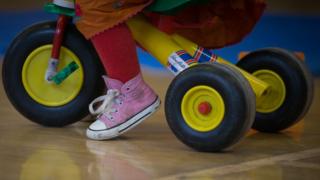 Free private nursery education will be scrapped in 2017 for children whose families earn £75,000 or more, the Jersey government has announced.
Currently the States of Jersey offers all three and four-year-olds free nursery places for 20 hours a week during term-time.
Education Minister Deputy Rod Bryans said his department "simply can't afford" the £1.9m cost.
A total government budget deficit of £145m is expected by 2019.
"It is difficult in the current financial circumstances to justify giving this subsidy across the board to higher-earning families but we also need to protect the funding for those who would otherwise struggle to afford nursery education," Deputy Bryans said.
The cut to the Nursery Education Fund "could save upwards of £250,000 a year" and is expected to affect between 75 and 100 families, the Education Department said.
A spokesperson said the department was "still playing its part" in balancing the States' budget despite having received "some protection" from government cuts.
The States pays £3,914 per child over the course of an academic year for the places in private nurseries.
The changes to the Nursery Education Fund will not affect places at state school nurseries.