Morgan Huelin death case: Five guilty of perverting justice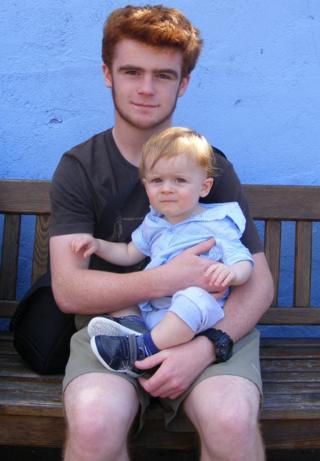 Five teenagers who moved their friend's body after he took a cocktail of drugs at a party have been found guilty of perverting the course of justice.
Morgan Huelin, 16, died on 5 July 2015 after taking the drugs in the Trinity area of Jersey.
Jersey Youth Court heard how one of the boys woke the morning after the party to find Morgan "foaming" at the mouth.
The boys, who cannot be named for legal reasons, had denied the charges of perverting the court of justice.
One of the teenagers was also found guilty of two drugs charges but cleared of importing the drug Etizolan.
'Extreme and unusual'
The boys had moved Mr Huelin's body from the garage of the house they had all stayed in after the party, the court heard.
Prosecutors described it as an "extreme and unusual thing to do" in order to prevent police finding drugs and indecent images in the house.
The boys' defence teams argued it was so the parents of one defendant would not find his body in the garage.
Magistrate Bridget Shaw said the teenagers "had never come across a situation like this before" and "young people don't always make the best and most rational decisions".
Speaking about one defendant, she said: "We think the defendant understood that what he supplied and Morgan Huelin's drug association would've come out if an ambulance was called and would spark a police investigation.
"He must've thought or realised he was partially responsible for Morgan Huelin's death."
The court had heard the defendant had taken drugs he bought on the internet more than 30 times, and he shared an interest in drugs with Mr Huelin.
The parents of Mr Huelin said: "He was a typical teenager but always found time for his little brother, taking him to the park, teaching him how to skateboard and making him laugh by making faces in the soap every night in the bath.
"It's impossible to explain what has happened to a three-year-old."
Advocate David Steenson, who represented one of the teenagers, said his client was "likely to appeal".