Morgan Huelin trial: Teenagers 'did not call ambulance'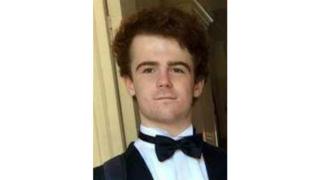 A dog walker has told Jersey's Youth Court she could not understand why five teenagers had not called an ambulance to help a "seriously ill" boy.
The boys deny perverting the course of justice over the death of Morgan Huelin in July 2015.
The court heard Carly Cudlipp had offered to help them but was told: "No, no, it's fine."
Mr Huelin died after taking a mixture of drugs at a party, the court has been told.
Mrs Cudlipp said she did not feel able to walk away, adding: "Morgan was lying on the ground perfectly still, it looked as though he had a fit or something.
"[Huelin] was lying with a cushion and a blanket of sorts. There was some desire to make him comfortable but no desire to get help."
'Would not work'
Mrs Cudlip said someone had said he was dragged. "I don't know where from but I presume the boy's house. To move somebody and then make him comfortable didn't feel right," she added.
The court was read one of the boy's police statements from the day of the incident, which contradicted the suggestion they were not interested in calling an ambulance.
It indicated they were frantically trying to use the emergency 999 function on a locked mobile phone, but could not get it to work.
Giving evidence, paramedic Andrew Langlois said the boys did not give much information.
He said: "There was something wrong about the whole scene really."
The trial continues.