Five Jersey teens 'moved body but did not call ambulance'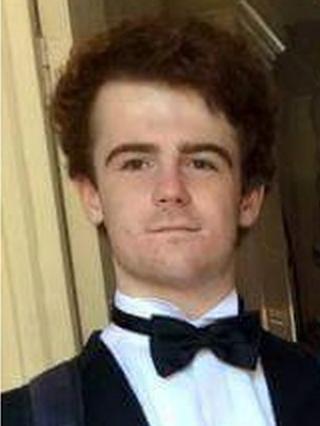 Five teenagers moved the body of a 16-year-old who died after taking a cocktail of drugs at a house party, a court has heard.
The boys moved Morgan Huelin, who was found unconscious in a garage, so they "wouldn't get done", Jersey Youth court was told.
Mr Huelin died last July after taking a mixture of drugs at a party in Jersey.
The teenagers, who can't be named for legal reasons, deny perverting the course of justice.
A friend found Mr Huelin frothing at the mouth and rather than call an ambulance, he called his friends to move Morgan to avoid police searching the property, the court heard.
Two passers-by came across Mr Huelin and two of his friends. An ambulance was called but the teenager died in hospital.
The drugs Mr Huelin had taken combined with morphine had depressed his respiratory system and his prolonged state of unconsciousness had affected his heart rate and breathing, the court heard.
Text messages from one of the defendants were read out in court and said: "We carried Morgan into the road - this way [defendant's name] wouldn't get done for a guy nearly dying from drugs..."
"I'm scared. Don't tell anyone"
Howard Sharp QC, prosecuting, said: "All the defendants knew Morgan had taken drugs and believed drugs were why Morgan was unconscious - therefore all knew the police would be involved."
One of the teenagers also faces drugs charges and possession of indecent images of children.
The trial continues.