Jersey tourism body 'on target' for 1m visitors by 2030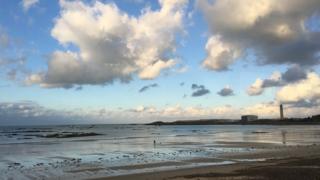 The organisation responsible for promoting tourism in Jersey says it is on target to reach its goal of 1m visitors a year by 2030.
Visit Jersey released new figures that show there were were more than 700,000 visits to the island in 2015.
David Edwards from Visit Jersey said that was the most since the recession hit in 2008.
He said the Island Games, a multi-sport event held in Jersey in 2015 boosted visitor numbers last year.
Mr Edwards said: "Now we know that 2.3% more people were welcomed to Jersey last year than in 2014.
"If we continue that rate of growth we will reach our ambition of welcoming one million visitors by 2030."
The island saw thousands of visitors in June and July last year for the 2015 Island Games.
Mr Edwards said: "If you look at the figures for June and July last year they were very positive. We saw huge growth from markets very small for us like Finland and Spain.
"Later this year we are hosting the dance world cup which will bring in visitors from other countries as well."
He said things were looking well for this year due to a number of major events and new air routes from Sheffield and Cardiff.
The favourable exchange rate between the Euro and the pound was also highlighted as a positive for visitors from France and Germany.
The number of people visiting Jersey is at its highest since the 2008 economic downturn
717,360
Visitors in 2015, up 2.3% on the previous year
346,950 staying leisure visitors, the highest since 2008

108,350 day-trippers, down 0.8% on the previous year

10% drop in the number of bed nights available

6.4% increase in the staying business market, highest since 2001