Jersey Condor Ferry passengers 'feel undervalued'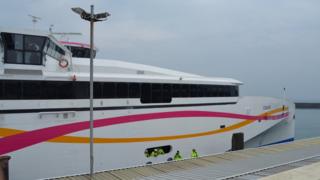 Condor Ferries passengers feel undervalued and do not trust the company, a watchdog has found.
The survey conducted by the Jersey Consumer Council (JCC) asked customers for their views on the company and its service.
It comes after the operator suffered a series of setbacks following the launch of its £50m high-speed ferry in March.
Condor said it will consider the findings as part of its existing year-round survey of customer feedback.
The survey was carried out during the Christmas period, which included a number of delays and cancellations, mainly due to the weather.
Capt Fran Collins, from Condor, said: "We are acutely aware of the inconvenience and frustration experienced by travelling customers over recent months.
"We have been listening, and will continue to listen to, all customer feedback."
The Jersey Consumer Council quizzed passengers over the Christmas period
Just under 200 people responded
14.1%
said their out journey was on time
20.1%
said their return journey was on time
29.2% were not told their outbound sailing had been delayed or rescheduled

28.6% were not told their return sailing had been delayed or rescheduled
The survey found 56% of passengers felt staff were attentive and 73% felt on-board staff were helpful and courteous.
Anne King, from the JCC, said many customers reported staff were doing their best in difficult circumstances.
"This suggests that the problem is not with Condor's front-line customer service staff, but with the delivery systems for necessary and important communications," she added.