Union to ballot on industrial action over job losses in Jersey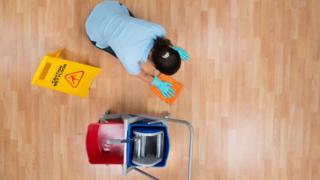 Up to 50 people will lose their job in Jersey's infrastructure department under plans to save up to £5m, according to the minister in charge.
A document seen by the BBC suggests up to 150 jobs could be lost in Parks and Gardens and Cleaning Services.
Deputy Eddie Noel said his team had worked with the union and staff to reduce the impact on jobs.
But Nick Corbel, from the union Unite, said he was balloting members over whether to take industrial action.
He said: "From what I can gleam via discussions and negotiations they are intent on privatising whatever services they can get away with.
"In my view the department has worked behind our backs. They have been interested in this agenda for some months and invited businesses to tender for work.
"They are only talking to us because they are required to. I do not believe there is any intention to look for alternatives."
Up to 150 jobs
Deputy Noel said: "At the maximum, when we first started the work it looked like it could be up to 150 job losses, that is down to up to 50.
"Unfortunately some people are not going to be employed by the States going forward."
Deputy Geoff Southern, of Reform Jersey, said cutting jobs would not save the government money in the long run.
He said: "We are down to the bare bones, we are laying people off and making the terms and conditions under which you supply services far far worse.
"I believe we will se a drop in standards and further drop in the economy."