Jersey short bus journeys cost to increase by 50p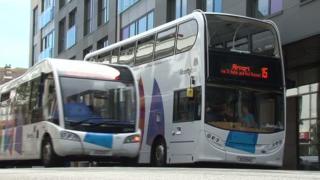 The cost of making a short journey by bus in Jersey will increase by 50p from 1 March after the operator decided to introduce a single flat fare.
Previously longer journeys would cost £2 and shorter journeys £1.50 if paying cash. All journeys will now be £2.
LibertyBus said the cost of all journeys would be dropped to £1.50 for people using a pre-paid card.
The company has also increased the age before children are asked to pay for the bus from three to five-years-old.
A spokesman for LibertyBus said they wanted to make it easier and more cost effective for people to use the buses.
Fares for students using their bus cards will stay the same and there will be no increase in the cost of the monthly unlimited card.
FARES FROM 1 MARCH
CASH FARE
£2
AVANCHI FARE
£1.50
STUDENT CASH FARE
£1
STUDENT AVANCHI FARE
79p