Jersey Education finds slight drop in GCSE results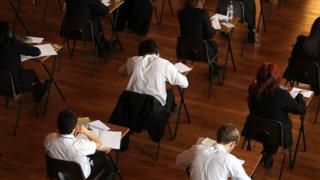 The number of pupils getting five or more A* to C grade GCSEs in Jersey fell by 2% in 2015.
Jersey's Education Department has released a performance breakdown of results for the first time.
It looks at the grades gained by pupils against aims set by the department, and compares them year on year.
Director of Education Justin Donovan said he was delighted with the results as they showed the island was making progress and catching England.
The report found the gap between girls and boys in GCSE results had doubled on the previous year, which the education minister said was "cause for concern".
Girls now perform 14% better than boys overall. In English girls performed 19.5% better than in boys and in maths there was a 1% difference.
In 2015 the number of pupils gaining a A* to C grade in maths went up by 3%, but in English the figure dropped by 3%.