Jersey mental health patients 'put in cells'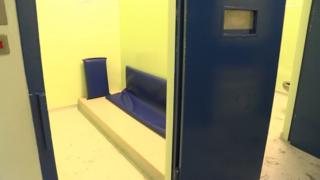 Young people having a mental health crisis are still being put in police cells in Jersey despite there being two new secure units at the General Hospital.
Police cells have already been used 19 times this year because the units are full, and health officials say they are in constant use.
Health Minister, Senator Andrew Green, said he was reviewing the units.
He said: "In the acute setting we do need more. We will evaluate it."
Police cells were used almost 70 times in 2015 to detain people with mental health issues, the highest figure for five years.
Mr Green said the new police station, which is currently being built, would have specialist units for people having a mental health crisis.
He said: "They are there, it is right they have the skills to handle it initially and it is right we pick it up at the right time.
"It is not just the security, it is a place of safety for someone having a serious mental health crisis.
"These are the first of two, we do need more and there will be more in the new hospital in A&E. These are specifically for young people."
Supt Rob Bastable from States of Jersey Police said putting people suffering from mental illness in police cells was "fundamentally wrong... not least because they do not receive the appropriate medical care".
He added: "We are working with our health colleagues to find a solution to the current situation."