Jersey union in strike threat over 'outsource plans'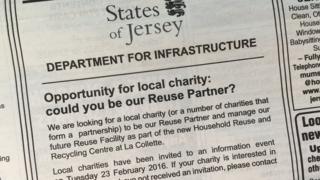 The union Unite is to ballot members on strike action over what it claims are plans to outsource States jobs.
A consultation process is under way with staff, but the Infrastructure Department invited private companies to a meeting about future services.
Gardening and cleaning jobs were under threat after the department said it had to save £5m as part of States cuts.
Minister, Deputy Eddie Noel said the meeting was just part of the process of working out how to make the savings.
Nick Corbel, from the union, said the minister was misleading staff and the public by advertising states jobs to private companies before they had finished consulting on job losses.
'Industrial action'
Chief Officer, John Rodgers, said the Infrastructure Department was not advertising jobs, it was just the start of a tendering process.
He said: "We are sending a circular out to explain to staff that this isn't tendering. We are just asking if there are other people out there interesting in doing the work."
Mr Corbel said the ballot papers for strike action would go out next week, describing the move as "disgraceful" .
He said: "We commenced a consultation process at the invitation of the infrastructure department to mitigate the need for redundancies.
"The issuing of this document makes a mockery of the whole process, it brings it into disrepute and for a public service department to act in this way is disgraceful.
"I was in the process of issuing ballot papers, I have now re-worded them to reflect the current situation and would expect them with staff next week."