Jersey-bound ferry stuck at sea after missing tide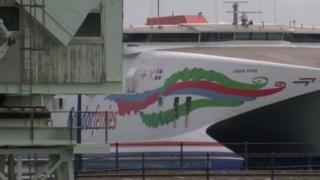 A ferry travelling between St Malo in France and Jersey is stuck at sea after missing the tide.
The Condor Rapide, which is carrying about 200 passengers, was not able to get into the harbour at 13:20 GMT and has had to wait off Noirmont.
Captain Fran Collins, executive director of Condor, blamed "incorrect consideration of the tidal conditions".
Peter Olsen, who is on board, said they had been told it would take several hours before the ferry could dock.
Ms Collins said: "We are very sorry for the unexpected delay. Our crew is looking after the passengers on board Condor Rapide and providing them with free food and refreshments."
Businessman Mr Olsen said: "There was an announcement made that because of the tide there was not enough water in the harbour. We are now going to have to float around for three hours."
He said that, due to the weather, this was the first time he had been able to travel to Jersey for the day since December.
"Things happen outside of their control like the weather. This one was in their control.
"Tides are predictable 100 years in advance. If there was no water in the harbour why were we scheduled to arrive at 1:20 in the first place?"
The return journey to St Malo is expected to leave on time, at 17:40 GMT.