Suspected illegal immigrant found in car boot in Jersey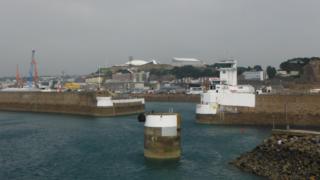 Three people have been arrested on suspicion of immigration offences, after a man was found in the boot of a car at a ferry crossing.
Amir Merikhi, 28, who claims to be from Iran, was arrested in Jersey on suspicion of being an illegal entrant.
The driver of the car, Amanda Marreakhy, 28, and Arsalan Marreakhy, 32, were arrested on suspicion of facilitating an illegal entry.
They appeared in Jersey's Magistrate's Court on Monday and Tuesday.
Mr Merikhi was discovered in the car by Jersey's Customs and Immigration officers on Saturday, after the vehicle arrived on the Condor Rapide ferry crossing from St Malo.
He had no identification documents.
Ms Marreakhy is a British national from Batley in West Yorkshire, where Mr Marreakhy is also a resident.
All three are expected to appear at the Magistrate's Court for an interim hearing on 16 February, before the cases are transferred to the Royal Court on 15 March.