Graffiti on WWII German naval bunker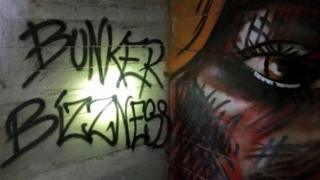 Graffiti has been painted on the walls of a German World War Two bunker in Jersey.
The Channel Islands Occupation Society, which looks after the bunkers, said it would be expensive to clean up.
Tom Brossman, of the society, said the graffiti was seen when volunteers were doing routine checks in the area.
The bunker, known as the Noirmont Command Bunker, was built by Nazi forces during their occupation of the Channel Islands in the 1940s.