Jersey schools get funding for disadvantaged pupils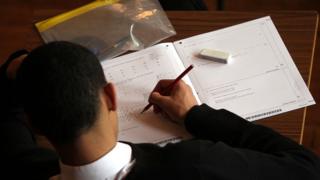 More than £800,000 has been made available in an attempt to help disadvantaged pupils achieve more in school in 2016.
Letters explaining the new "Jersey Premium" scheme have been sent to parents on income support in Jersey.
Parents had until 22 January to decide if they wanted their income support details given to education authorities.
The scheme will run in a few schools in 2016 before being rolled out across the island in 2017.
Initially £837,000 will be shared between schools in 2016, with an increase to £1.2m from 2017 onwards.
The money will be used to give children extra help with English, Maths, reading and allowing schools to run after school clubs and purchase extra equipment.
An education spokesman said the letters were being sent to parents to give the department the information it needed to distribute the funding properly.
---
Children are able to receive funding if they:
Live in a household that receives income support
Live in a household that could receive income support (it meets the requirements of the Social Security Department) but have not lived in Jersey for five years or more
Are Looked After Children (who are under the care of Social Services)
Funding is available to pupils whether they have lived in Jersey all their life or have only just arrived.
Source: Jersey Education Department
---
Education minister Deputy Rod Bryans said the money should help narrow the gap between state and fee-paying schools.
It will be coupled with closer monitoring of pupil achievement.
Jersey has four state-run secondary schools as well as two single-sex fee-paying grammar schools (Jersey College for Girls and Victoria College), two Catholic private schools (Beaulieu and De La Salle) and a post-14 selective grammar school (Hautlieu).
The pupil premium was introduced in the UK with the aim of helping schools with disadvantaged pupils achieve more.