Jersey States publish secret transcripts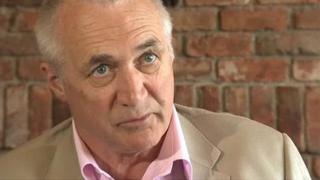 A politician said he used a police report as a basis to "suspend" a former police chief, despite it not being meant for disciplinary procedures.
Deputy Andrew Lewis made the comment at a secret States of Jersey meeting after the suspension of Graham Power in 2008.
Transcripts of previously secret States discussions over Mr Power's suspension were published for the first time after a States vote on Wednesday.
Deputy Lewis said he acted within the remit of the "rule of law".
Mr Power was in charge when a police investigation into historic child abuse began in 2006.
He was suspended over his handling of that investigation, but was never disciplined.
Witnesses had previously attempted to submit leaked evidence of the secret transcripts to the Jersey Care Inquiry, which is investigating allegations of child abuse in Jersey's care system, dating back to 1945.
The inquiry will now be able to use the transcripts to question witnesses about whether politicians interfered in the abuse investigation.
One transcript shows that in December 2008, Deputy Lewis, the Home Affairs Minister at the time, said he used a preliminary report by the Metropolitan Police into the Jersey abuse investigation as a basis to "pursue a disciplinary investigation " and "suspend" Mr Power.
The care inquiry had previously heard that these reports were not meant to be used for disciplinary purposes.
Frank Walker, who was Chief Minister in 2008, had also told the care inquiry Mr Power's suspension did not rely on the Metropolitan Police report.
Deputy Lewis said: "My actions in 2008 were based entirely upon evidence placed before me. I acted with integrity and impartiality remaining within the remit of the disciplinary code and the rule of law."