Two injured seals washed up in Jersey are returned to the wild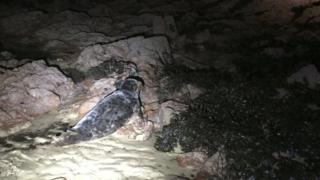 Two seal pups found injured on Jersey's coastline have been successfully returned to the wild.
One of the pups was found at St Ouen's Bay on Christmas Eve with bite wounds to its back.
It was sent to the specialist RSPCA West Hatch centre in Somerset to recover and released overnight.
An underweight and wounded female pup was found at Portelet Bay on Monday, but after on-island care was released that evening.
British Divers Marine Life Rescue coordinator Donna de Gruchy said the seal was a "moulted and weaned grey seal pup, appeared slightly underweight for her age and was suffering superficial wounds with an especially deep laceration above her eye".
She said the seal was "a little older than the pups we usually work with" and it was decided immediate release was "in the best interests of the pup".
Ms de Gruchy said: "In the 10 years I have been doing this, she is certainly the strongest of pups and definitely the heaviest.
"This leads us to believe she has a good chance of survival out in the wild as nature intended. We were really happy that she could be released so quickly and, even more so, locally."