Jersey votes against introducing UK living wage model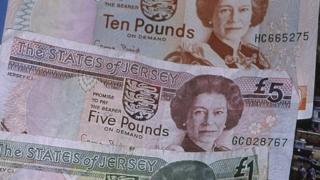 Proposals for a "National Living Wage" to be introduced in Jersey in line with the UK have been rejected, in favour of a smaller rise in the minimum wage.
The States of Jersey voted against fixing the minimum wage at £7.20 from April by 38 to 10 votes.
However, members agreed to investigate the impact of the proposed changes in the island.
Chief Minister Ian Gorst said employers needed "enough notice and to be consulted".
From April workers in the UK aged 25 years old and above will be guaranteed a National Living Wage of £7.20, which will replace the minimum wage of £6.70.
In Jersey however, the minimum wage is due to rise to £6.97, a 19p increase recommended by the government's consultative body, the Employment Forum.
Senator Gorst said "We are putting policies in place to ensure that our economy continues to grow, and I welcome the decision of the Assembly to uphold the increase in the minimum wage recommended by the Employment Forum, which was above inflation and average earnings."
Graham Le Lay, President of the Jersey Farmers Union, told the BBC more farmers "would go out of business" if a living wage was introduced, adding that wages was one of the "biggest costs" for farmers.
However, Deputy Sam Mezec, who brought the proposals, said the vote against the rise meant people on the minimum wage would find it "more difficult to buy the things they need to live" as a result of inflation.
He said it was "the taxpayer who foots the bill" because a lower minimum wage would mean higher payments in income support.