Missing Adrian Lynch: Police revisit houses in Jersey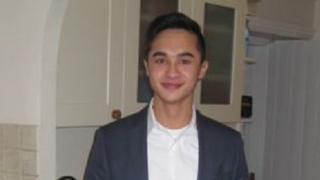 Homes in the area of Jersey where a missing man's belongings were found will be searched again by police.
Adrian Lynch, 20, was last seen in the early hours of 5 December following a work Christmas party.
His mobile phone, wallet and belt were found in the Carrefour Selous area, where he was dropped off by a taxi.
Mr Lynch's mother, Mameal said: "In my heart I still believe Ady is alive." Police have so far been acting on the assumption that Mr Lynch is dead.
Det Supt Stewart Gul, from States of Jersey Police, has previously said that "in all probability Adrian is dead".
Some properties in the Carrefour Selous area will be revisited "not only for Adrian but also for any of his possessions" such as a passport and driving license which he is now believed to have had on him, police said.
---
Adrian Lynch's last-known movements on Saturday 5 December
Midnight - Dropped off by a taxi at the junction of La Rue and Ruette D'Avranches
Midnight - Spoken to by a driver just south of Carrefour Selous
Midnight to 00:30 - Two further potential sightings in the same area of Carrefour Selous
01:00 - Seen by a member of the public in Rue de la Golarde
01:10 - Seen by homeowner in Rue de la Golarde
01:30 - Possibly knocking on doors on La Rue du Douet de la Rue
01:30-02:00 - Sightings in the area of Bon Air Riding Stables by two witnesses
02:00 - Clos de Devant, seen by homeowner
Source: States of Jersey Police
---