Seven year peak as 1.5m visitors fly to Jersey in 2015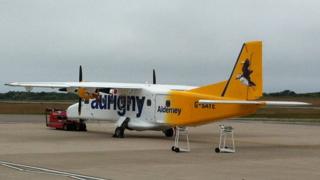 More than 1.5 million airline passengers travelled to Jersey in 2015, the highest number in seven years recorded by Jersey Airport.
A new flight route between Jersey and Berne was also announced, as well as an additional 100,000 seats across flights from Jersey this year.
However, figures showed a slight fall in passengers travelling to Guernsey, and between the Channel Islands.
Myra Shacklady from Ports of Jersey said its air services were "enviable".
Ms Shacklady said: "As always, major events such as festivals do attract high numbers and in particular the Island Games attracted an additional 3,000 passengers
"For an island the size of Jersey we believe we have an enviable network of air services across the British Isles."
Guernsey Airport's director Colin Le Ray said 2015 had "not been a great year for inter-island travel", with 7,605 fewer passengers travelling to Guernsey from neighbouring Channel Islands.