Jersey former chief minister says 'no abuse cover up'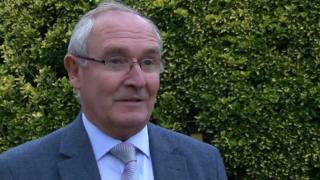 There was no conspiracy to hide abuse allegations in Jersey, according to a former chief minister.
Frank Walker, who led the government during the police investigation into historical abuse allegations, has been giving evidence at the care inquiry.
Previous witnesses accused Mr Walker of trying to influence the original investigation.
He flatly denied the claims, saying he gave his full support to the police investigating the accusations.
The chief of police at the time of the investigation, Graham Power, was suspended and his deputy, Lenny Harper, retired amid criticism of his handling of the investigation.
The Health Minister at the time, Stuart Syvret, was also ejected from his government post after raising his concerns publicly.
While giving evidence, Mr Walker rounded on Mr Syvret, saying the former Senator's public outbursts did not help children because they undermined potential prosecutions.
He said: "If Stuart Syvret had approached me it would have set alarm bells ringing. It never happened.
"It was a totally inappropriate way to bring this into the public domain. He could and should have come to me in the first instance, probably with his Chief Officer.
"Why, after eight years of being in charge of this department, didn't he use this arena to bring forward these amazingly sensitive issues."
Mr Walker said Lenny Harper had falsely led the media to believe murders had taken place at Haut de la Garenne. And he said Mr Harper's superior officer, the Police Chief Graham Power, had allowed him to get out of control.
Mr Walker said when abuse allegations came to light, the States publicly announced it would support the police in making sure no stone was unturned and he told the panel that is exactly what it did.