Lenny Harper tells Jersey Care enquiry corrupt police were not charged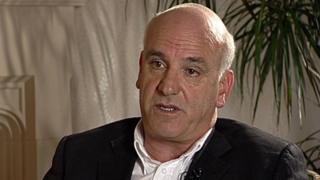 Police officers sold prescription drugs to prostitutes for sex and put pornographic films on computers bought with police budgets, but were not charged, it has been claimed.
Former police chief Lenny Harper told the Jersey Care inquiry he submitted files against officers in 2007, but the attorney general did not charge them.
He said one officer pointed a gun at another's head but was not sacked.
The States of Jersey Police declined to comment on the claims.
Lenny Harper, who was appointed deputy chief officer of the force in 2003, told the inquiry there were approaching a dozen suspects who had been arrested and files were presented to the Law Officers Department but they were not charged by the attorney general.
Children were 'loaned out'
He said the police took possession of computers senior members of the IT Department "had bought on the police budgets with pornographic films on the computers and no charges were ever brought against them".
He told the inquiry he could also remember at least four cases in which officers who had been suspended by the States of Jersey Police (SOJP) were reinstated by the States of Jersey.
He said he did not recall making a complaint himself to the attorney generals officer about the alleged failure to charge corrupt officers because it was the job of the head of operations to oversee daily police work, though he said lawyers working in the attorney general's office were approached by other police officers.
Mr Harper, who led a two-year long police investigation starting in 2006 into historic child abuse in Jersey, also gave evidence about "a culture emerging in Jersey of systematic child abuse" which was "far worse" than a single paedophile ring.
He said: "Children were in effect being loaned out to people taken on yachting trips" and there were allegations of abuse taking place outside of territorial waters which were not dealt with properly by the police.