Jersey wildlife park's love-struck otter recaptured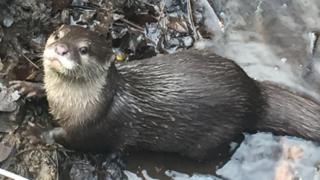 An otter which escaped from a wildlife park "looking for love" has been recaptured after a month on the run.
Keepers at Durrell wildlife park, Jersey, believe Geoff left his enclosure in search of a mate, although there are no wild otters on the island.
The Asian short-clawed otter was found in the St Catherine's wood area and scents were placed to trap him.
Keeper Dom Wormell said Geoff would spend a month in quarantine.
Geoff's favourite foods, mussels and sardines, were also placed in the trap to lure him in.
The trap was kept in place for several days before he was finally captured.
Mr Wormell said Geoff's capture was well-timed as the weather was due to get a lot colder, something the Asian otter would have struggled with.
"Also I don't think the anglers that use the lake at the bottom would have been too pleased if he had taken up long-term residence in the area", he said.
After Geoff is quarantined, Mr Wormell said, keepers will attempt to re-introduce him to the rest of the park's otter population.
"Remixing with the rest of the otter family at Durrell after so long away may be tricky," he said.
"The dominant male, Geoff's father, may treat him as a rival."