Condor Ferries' Clipper damaged in mid-channel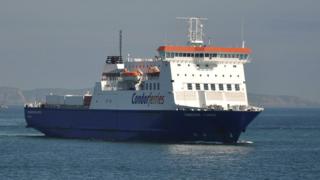 A ferry serving the Channel Islands was damaged while in the middle of the English Channel.
The Commodore Clipper was on its way from Portsmouth to Jersey when a ventilation cowl on the forward deck was "damaged in heavy weather".
According to marine tracking websites, the ferry took a sharp turn to port at about 14:00 GMT and its speed has been reduced since then.
The crew made repairs, but the ferry was diverted to Guernsey.
A Condor Ferries statement said: "The crew have now successfully completed repairs and made all appropriate safety checks and equipment tests.
"Due to tidal restrictions in Jersey, it is now necessary to amend the route to call into Guernsey first and then continue onto Jersey."
Due to international regulations on crew rest hours, the ferry will remain in Jersey until 19:05 GMT on Friday when it will sail to Guernsey and on to Portsmouth.
The company said passengers had been kept up to date throughout and provided with refreshments.