Double-agent petition among 200 records released in Jersey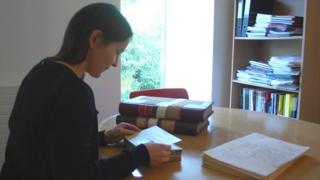 Complaints from prison by a double agent and tales of children doing hard labour are among records made public.
More than 200 records have been released by the Jersey Archive, including a petition from the infamous British double-agent Eddie Chapman.
The letter shows Chapman, later known as Agent Zigzag, complaining about a lack of personal clothes in prison.
Archives and collections director Linda Romeril said there was "a fascinating array of documents".
Many of the records date from 1915, having been subject to the longest Freedom of Information closure period.
One shows depositions against George Penny, 14, who was sentenced to hard labour for stealing from a church offertory box in 1915.
Another features reclassification of the nationalities of alien citizens, including an Austrian who became German after Austria was annexed in 1938.
Mrs Romeril said Chapman's letter was "of particular interest" and was one of a number of petitions from prisoners in Jersey to the Home Secretary that date from the period "just prior to the Occupation".
Before becoming a Second World War double-agent, spying both for the Nazis and Britain, Chapman racked up an eclectic list of crimes including blackmailing former lovers with compromising photographs.
Having attempted to blow up the safe of the Edinburgh Co-operative Society in 1939, Chapman skipped bail and fled to Jersey, where he was imprisoned for theft.
His letter complained that he was left "in prison without any personal clothes" after police who chased him to Jersey seized all of his luggage in a raid.
Chapman also claimed he was "entitled" to be reimbursed for the bail money he had given to his Scottish solicitors.