Residents in Jersey evacuated after landslide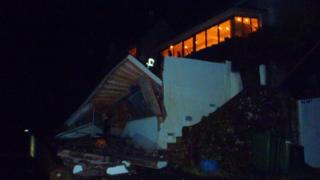 A landslide has forced four residents to leave their Jersey home as part of the building collapsed and gas pipes were ruptured.
The owners of the St Martin property alerted the emergency services at about 23:00 GMT on Tuesday.
The fire service described the house as "unstable" and closed the road between Gorey Castle and Geoffrey's Leap.
Richard Ryan, from Jersey Fire & Rescue Service, said the closure would last "until the area has been made safe".