Missing Adrian Lynch: Parents appeal for information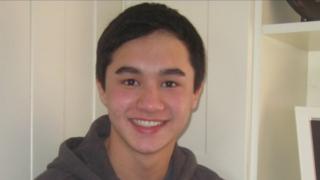 The parents of a man who has been missing for almost four weeks in Jersey have appealed to islanders for information.
Adrian Lynch, 20, was last seen in the early hours of 5 December after his work Christmas party.
Danny and Sharon Lynch said Christmas Day was "particularly difficult" and everyday without him was "agonising".
Emergency services have been searching near where he was last seen in St Lawrence, St Mary and St John.
Fields and waterways have also been searched by Jersey and UK emergency teams.
His parents said: "Every day is agonising and we wake up and realise we have to live this again, day after day, until Adrian is found. It just eats away at you.
"We didn't feel like celebrating Christmas this year, but you have to create some form of normality for the children's sake, it's just so hard and we are devastated.
"We urge anyone with any information, no matter how insignificant they might think it is, to get in touch with the police.
"Even if you think it's nothing, it may help with the investigation, there's an anonymous phone line, if you're worried about getting involved, just please pass on any information that might help us find Adrian."
They said they were "overwhelmed" by the efforts of those searching for their son.