Adrian Lynch search: Jersey police scale back operation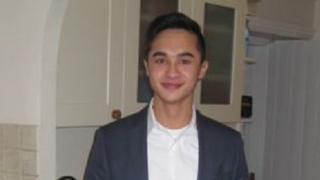 The search for missing man Adrian Lynch is being scaled down, although Jersey Police say the remain "committed" to finding him.
The 20-year-old was last seen in the early hours of 5 December after his work Christmas party.
Officers will now focus on "other lines of inquiry".
Det Supt Stewart Gull said: "We and all of the agencies who are supporting us are heartbroken that we haven't yet been able to find Adrian."
In the past 16 days officers have searched "significant areas" of St Lawrence, St Mary and St John making use of dogs, drones, night vision and sonar equipment.
A statement said: "All proportionate and realistically feasible physical search opportunities have now been exhausted covering an area of about 10 sq km (4 sq miles).
"The belief is that Adrian became disorientated, possibly suffering from hypothermia, and found himself in a situation he then couldn't get out of.
"The sad truth is that Adrian is likely to be curled up in a ball potentially with his suit jacket pulled over his head and that is where he will be found.
"There is still no evidence of any third party involvement."
Det Supt Gull said: "We will be asked why we aren't searching the whole island and the answer to this is simply that there is no evidence.
"He was seen many times in a short space of time and was very vocal. We have had no reports or can find nothing to suggest he is anywhere else.
"Even though we are a small island, in the absence of any clear evidence to the contrary, it is unrealistic to search some 45 square miles.
"We have taken guidance throughout the search from a UK expert who has agreed with the actions we have taken.
"We have also consulted with Adrian's family throughout so they understand the reasoning behind all of our decisions. We are grateful for their continued support."
---
Timeline of sightings and potential sightings
00:00 - Adrian is dropped off by a taxi at the junction of La Rue and Ruette D'Avranches
00:15 - Male seen looking unsteady on his feet by taxi passenger
00:15 - Seen by a driver leaning against a wall, then later lying in the road
00:20 - Seen speaking to driver
00:25 - Person spotted on a grassy bank in the area
00:35 - Second sighting of person in hedge
01:00 - Heard shouting in Rue de la Golarde, then seen by same person
01:10 - Seen by homeowner in Rue de la Golarde
01:35 - Seen by car driver near David Hicks
01:40 - Heard shouting by Bon Air Stables
01:50 - Spoken to homeowner in Le Clos de Devant
01:55 - Seen walking along La Fraide Rue
02:00 - Heard shouting in St Lawrence Main Road
02:09/2:17 - Seen on Thistle Grove CCTV
08:40 - Mobile phone and wallet found
10:30 - Belt found
---