Italian men cleared of $20bn Nedbank fraud in Jersey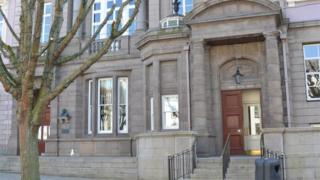 Three men accused of trying to defraud a bank in Jersey of $20bn (£13.3bn) have been found not guilty.
Antonio Siracusa, 75, Enrico Verga, 38, and Tommaso Caruso, 50, were arrested in February following an attempt to use a forged document at Nedbank.
The jury accepted that the men wrongly believed a letter supposedly signed by the Pope, the Queen and President Obama, was genuine.
At Jersey's Royal Court they were cleared of conspiracy to commit fraud.
Charges of going equipped to commit fraud were dropped against the three men.
The men were alleged to have been part of an international conspiracy which had planned for months to defraud Nedbank of $20bn.
Police were called by a member of staff at Nedbank when Siracusa, Caruso and Verga walked in to the bank's St Helier premises with two bodyguards and asked for the money to be transferred to a bank account.
However, the jury accepted that the men thought they were setting up a genuine humanitarian fund and had been duped by a wider scam.