Jersey inquiry: 'Culture of fear' at Greenfields secure school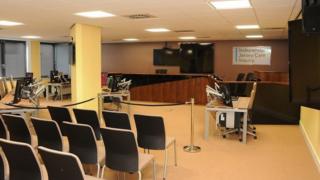 A States-run secure school ran on a culture of fear, secrecy and intimidation, a former secretary has told Jersey's Independent Care Inquiry.
Rebecca Etienne, who worked at Greenfields from 2007 until 2012, was giving evidence to the inquiry into historical abuse on the island.
She said the regime at the school often gave her cause for concern.
Miss Etienne said when she complained, nothing happened and managers eventually tried to remove her.
The inquiry heard that staff could be drunk on duty and on one occasion all the children were locked up so staff could cook themselves breakfast.
She said: "One member of staff used to incite children to misbehave so she could then take away their privileges. It was low-level psychological abuse."
Grand Prix
Miss Etienne said on the arrival of a new manager - Simon Bellwood - her existing managers, Joe Kennedy and Phil Dennett, ordered her to shred "reams" of records.
The records were about a disciplinary scheme known as the "Grand Prix" system, which was a points based system where children won or lost privileges based on behaviour.
After raising his concerns, Mr Bellwood lost his job. The States later settled an unfair dismissal claim.
Miss Etienne said shredding the records took a whole afternoon. She said: "there were reams and reams of records about young people, and the Grand Prix system."