Adrian Lynch: Thousands of hours in missing man search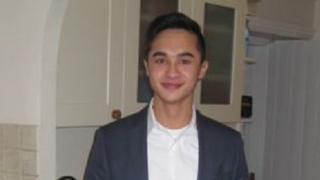 The police search for a Jersey man missing for 10 days has taken about 7,000 hours.
Emergency services began searching for Adrian Lynch, 20, after he was last seen at 02:00 GMT in Carrefour Selous.
Police officers have taken over 50 witness statements since the search began.
Det Supt Stuart Gull said it had been a demanding case for everyone with 10 agencies involved in the search.
He said: "We've got dedicated family liaison officers deployed, working in support of the family. It has been a very difficult time.
"The family have been very active, they have helped in the searching, they have provided refreshments for the staff involved in the search. They have kept themselves busy."
The search for Adrian Lynch
A dozen agencies have been involved in searching for the 20-year old who went missing on Saturday 5 December.
7,500
hours spent looking for him
7 hours spent in the air by Channel Islands Air Search

55 flights made by the Jersey Air Search drone covering 74,000 metres

55 statements taken from witnesses by police officers

242 homes visited and 450 people from the homes spoken to
Mr Gull said five officers had been drafted in from Guernsey Police to help Jersey officers in the search.
A national Police Search Advisor has also come to the island from the College of Policing to look at the work undertaken so far.
As well as these agencies two officers from Humberside Police are on the island with the latest sonar equipment searching large expanses of water which have proved difficult for States divers due to depth and visibility.
Members of the public have also been eager to help, with more than 4,000 joining a Facebook group offering support.
However, police have asked the public not to conduct their own searches.