Jersey introduces new law to better manage roadworks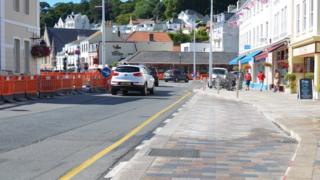 Utility companies will have to wait three years before digging up a road that has been resurfaced, if new legislation is agreed next year.
The proposed road works and events law would also force companies in Jersey to obtain government permission before carrying out roadworks.
There are currently no rules stopping them from digging up a recently-resurfaced road.
Transport minister, Deputy Eddie Noel, said the current law was out of date.
He said that Jersey was unusual for allowing utility companies to establish their own rules with respect to roadwork practice, and that the new law would minimise the impact of road works on the public.
Helier Smith, chief executive of Jersey Water, said: "The law isn't going to affect Jersey Water to a great extent."
He said estimated costs for Jersey Water of more than £60,000 a year in permit fees would be passed on to any new developers and customers.
Jersey Telecom has been approached by the BBC for a comment.
The draft road works and events law is due to be debated by the States of Jersey in January 2016.