Missing Adrian Lynch: House-to-house search begins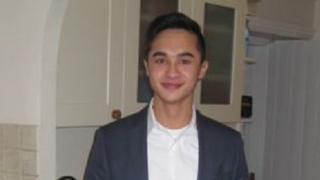 Police searching for a man missing since Saturday morning have started house-to-house inquiries.
Emergency services have been searching for Adrian Lynch, 20, who was last seen at 02:00 GMT on Saturday in the Carrefour Selous area.
States of Jersey Police said officers are likely to revisit residents they have spoken to before.
More than 4,000 people have signed up to a Facebook group offering to support the search.
Mr Lynch's parents, Sharon and Danny Lynch, said: "We have seen first hand the work that is going into the search and we are tremendously grateful and overwhelmed."
Police and other emergency groups scaled down a search overnight due to poor light and resumed in full on Thursday morning, when the Channel Islands Air Search plane made checks over Trinity, St Lawrence, St Mary and St John.
A crew member said: "We searched each of these thoroughly but despite having excellent visibility throughout the flight, no sightings of Adrian were made."
Police said two further potential sightings of Mr Lynch on Saturday morning were reported on Wednesday.
A force statement: "We are also asking islanders to keep a lookout for Adrian's Yale door key and a key to a Ford Fiesta, which his family now believe are not at the home address.
"Adrian was also wearing a gold signet ring."
---
Adrian Lynch's last-known movements on Saturday 5 December
Midnight - Dropped off by a taxi at the junction of La Rue and Ruette D'Avranches
Midnight - Spoken to by a driver just south of Carrefour Selous
Midnight to 00:30 - Two further potential sightings in the same area of Carrefour Selous
01:00 - Seen by a member of the public in Rue de la Golarde
01:10 - Seen by homeowner in Rue de la Golarde
01:30 - Possibly knocking on doors on La Rue du Douet de la Rue
01:30-02:00 - Sightings in the area of Bon Air Riding Stables by two witnesses
02:00 - Clos de Devant, seen by homeowner
Source: States of Jersey Police
---
Det Ch Insp Lee Turner, who is leading the investigation, urged people to check their properties.
He said: "Our officers and staff from other agencies are working very hard and tirelessly trying to find Adrian and we appreciate the tremendous support we have had from members of the public.
"We understand that people want to help and we and the family are so grateful for the support being articulated on line.
"We are continuing our focused and methodical searching with trained personnel."
Mr Lynch's disappearance has been described as "quite unusual and out of character".
The St Mary resident was wearing a suit and shirt when he went missing, police said.