The Limes nursing home in Jersey to close in April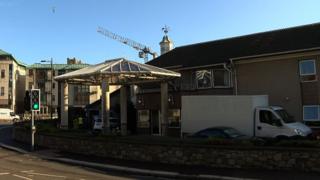 A state-owned nursing home in Jersey will close in April next year because the building is "not fit for purpose".
The 25 residents at the Limes in St Helier and their families were told on Tuesday the Health and Social Services Department (HSSD) would help them find alternative accommodation.
Senator Andrew Green said it "would not make sense" to upgrade the building when there were already high-quality independent homes.
There are no planned redundancies.
HSSD said about 40 staff who were affected by the closure, including nurses and catering staff, had been told that they would be given other jobs within HSSD.
Senator Green, Jersey's Health and Social Services Minister, said though staff knew their jobs were secure, some cried when they were told of the closure at Tuesday's meeting.
He said: "Many of them have worked together for many many years and we'll be breaking up a team, and a family if you like, a community almost."
Ian Dyer, director of services for older people, said the building was originally designed for patients who had less severe medical needs than current patients, when it was opened in 1974.
He said: "The majority of the people in Limes aren't mobile, they need wheelchair support or need frames and people to help them walk, and the corridor widths for example just aren't big enough for wheelchairs to pass."
Jersey Property Holdings, part of Jersey's Treasury and Resources Department, will consider the site's future use.