Jersey prison sentence for police officer assault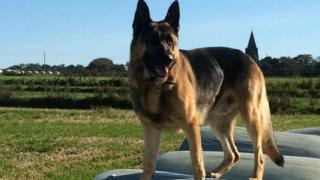 A man has been jailed for 15 months after he assaulted police officers and kicked a police dog in the head, which then pinned him to the ground.
Mark Anthony Derrick, 24, admitted five charges, including one of grave and criminal assault.
Police were called to St Helier on 8 August after reports of a fight, where Derrick became abusive.
Sentencing, Deputy Bailiff Timothy Le Cocq said police do a dangerous job and have a right to be protected.
He said: "The police do a difficult and dangerous job and they are entitled to the protection of the court when unprovoked violence is visited upon them as it was in this case."
The court heard the officer tried to detain the men but Derrick became abusive at the same time as an off-duty officer cycling past stopped to help.
Derrick became more abusive and when another officer turned up with a van, the three tried to arrest him on suspicion of another offence, at which point he lashed out, punching and kicking the officers and the dog.
One of the officers said the incident was one of the most extreme cases of resisting arrest he had seen in nine years on the force.
As he kicked the police dog, called Achilles, in the head the dog grabbed Derrick's leg and brought him to the ground.
Neither the officers nor dog involved received long-term damage from their injuries.
The court gave no details of Derrick's address.