Jersey States Police 'should have power to charge suspects'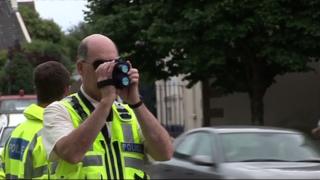 Jersey's Honorary police should hand power to charge suspects over to the States Police, according to a former detective.
Barry Faudemer, now Head of Enforcement at Jersey's Financial Services Commission, spent nearly 30-years in the police.
He called for the change while giving evidence at the Jersey Care Inquiry.
Hugh Raymond, president of the honorary police association, said it was not as simple as just handing over the power.
He said: "Moving to a paid prosecution service would cost the States a lot more money and would involve significant legislation change."
Evolving system
Currently, only elected honorary police officers, known as centeniers, are able to charge people arrested by the States of Jersey police.
Mr Fraudemer said: "Centeniers should step aside completely from standing up in court. The time has arrived for professional prosecutors."
He told the inquiry the honorary system was "outstanding" but should focus on minor crime and parish hall inquiries.
Danny Scaife, chef de police for Jersey's capital, St Helier, said the current system had evolved over years and is much more professional now.
He said: "In the magistrates' court the legal advisors can present as well as the centeniers, especially in more complex cases, we also take advise from them before charging.
"If we had a paid system it would cost more, it would be more bureaucratic. We have adapted the system over years and now have a full time service of elected volunteers charging and professional advisors.
"We charge on behalf of the parish but are accountable to the attorney general who is also the titular head of the honorary police. He can overturn our decisions."