Rare pink pigeon born at Jersey wildlife park has died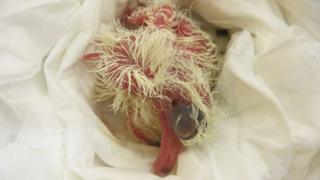 The 70th pink pigeon born in captivity at a Jersey wildlife park has died a few days after its birth.
Laurie's egg was found abandoned by its mother before it hatched at Durrell Wildlife Conservation Trust.
Harriet Whitford, deputy head of the bird department, said: "Laurie was found to have passed away on Friday, still being brooded very attentively by its foster mum."
She said it was hard to identify the cause of death in such a young bird.
Ms Whitford said Laurie had "put up a brave fight" after his abandonment but ultimately "it could well have been too much".
The pink pigeon is an endangered species endemic to Mauritius.
Numbers have increased from about 12 to 470 since the 1980s as a result of conservationist efforts to mange the wild population.