Co-op blames Channel Islands food delays on Condor ferries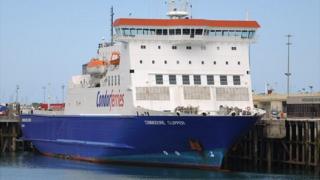 The Channel Islands Co-op has blamed a lack of fresh food imports to the islands on poor ferry services.
Mark Cox, the Co-op's Chief Operating Officer, criticised ferry operator Condor for failing to provide adequate contingency plans while its ferry, Commodore Clipper, is in dry dock.
A replacement freight ferry "could not cope", he added.
Condor said periodic maintenance was necessary to ensure its fleet was in the best condition.
Storms at the weekend disrupted passenger and freight sailings.
The MV Arrow, which has replaced the Commodore Clipper while it is out of the water, did not run at the weekend.
However, Condor operated an extra sailing of the freight ferry Commodore Goodwill on Sunday.
Mr Cox said the traditional freight vessels could cope in such weather, but MV Arrow did not have the same capability.
"Given the additional rotation, we've had some delays to stock getting into our store, and that's around fresh food stocks."
The Co-op closed all of its food warehouses in the Channel Islands in January.
Condor's Executive Director of Freight, Steve Champion-Smith, said: "There is never a good time to take vessels out of service for maintenance but it has to be done periodically in order to keep our fleet in the best possible condition."
He said that Condor had ensured there would be "no effect on supplies to the island until Monday evening", and that none of the conventional ferries would have been able to sail because of the extreme weather.