More Guernsey banks likely to close, regulator says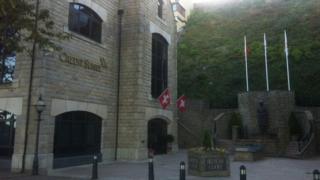 More than a third of banks in Guernsey have shut in the past decade, with more forecast to close, according to the financial regulator.
The figures were released by Guernsey Financial Services Commission (GFSC), before Credit Suisse announced it was reviewing its private banking business.
The BBC has heard job losses are expected at the Swiss bank.
Director of Banking at GFSC, Jeremy Quick, said he thought bank numbers would "go down".
Mr Quick said the forecast was based on a number of smaller banking institutions which looked "quite marginable in terms of profitability".
However, he said the key issue was the number of jobs that existed at the remaining banks, not the number of licences granted.
The number of licensed banks has fallen from 50 in 2005 to 30 in 2015.
Toby Birch, a director of investment funds in Guernsey, said the long-term outlook for Guernsey's banking sector was "not that great" and that there had been a decline in funds under management in the island.
Deposits in banks have also gone down by 35% since 2008.
Dominic Wheatley, head of Guernsey Finance, said it was important to promote business across the whole financial sector, and to "attract new businesses to the island".