Rare pink pigeon born at Jersey wildlife park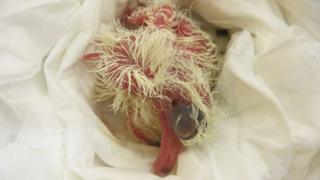 The 70th pink pigeon in captivity has been born at a Jersey wildlife park, conservationists have said.
Laurie's egg was found abandoned several days before it hatched at Durrell Wildlife Conservation Trust.
Numbers of the endangered species native to Mauritius have risen from about 12 to 470 over the last thirty years, due to intensive management of the wild population.
The bird keeping staff said they were "delighted" with the birth.
The sex of the bird will not be known for another month.